Terence Conran er en av verdens ledende restauratører og designere. Hans mange anerkjente restauranter har vært med på å gjøre London til en av verdens matmetropoler.
Conran står blant annet bak Almeida, Bibendum, Bluebird Coq d'Argent, Mezzo, Orrery, Quaglino's, Sartoria, Zinc Bar & Grill og den såkalte Gastrodome ved Tower Bridge, som innbefatter Le Pont de la Tour, Cantina del Ponte, Butlers Wharf Chop House og Blue Print Café.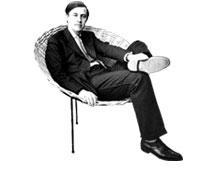 Sir Terence Conran :
"My belief is simply that if reasonable and intelligent people are offered something that is well made, well designed, of a decent quality and at a price they can afford, then they will like and buy it. This is the abiding principle to which I hold, whether as a designer, retailer or restaurateur."

Founded in 1990 by Sir Terence Conran, the principal activities of the Conran Group are architecture, product design, graphic design, interior design, shops, restaurants and brand licensing.
I 1998 åpnet han sin første restaurant i Paris, Alcazar i Rue Mazarin. Terence Conran har blant annet skrevet bøkene "The Essential House book", "Terence Conran on Design", "The Essential Garden Book" (med Dan Pearson), "Easy Living", "Chef's garden", "Terence Conran on Small Spaces" og "Kitchens".
Terence Conran is one of the world's best-known designers, restaurateurs and retailers. Born in 1931, he founded the Habitat chain of stores that brought good, modern design within reach of the general population. Through the merger of Habitat with Mothercare and the subsequent additions of Richard Shops, Heal's, British Home Stores and Blazer, Terence created the retail group Storehouse, from which he retired in 1990. Habitat is now owned by the holding company that also owns Ikea.
In 1980 Terence established the Conran Foundation, a charitable fund dedicated to educating the public and British industry on the values of industrial design. At the end of 1981, the Boilerhouse opened at the Victoria & Albert Museum. In July 1989, almost three years after the Boilerhouse closed, the Design Museum opened in Butlers Wharf, on the south bank of the Thames, close to Tower Bridge. The Design Museum was the first in the world to be dedicated to the promotion and examination of design.
Terence is currently the Provost of the Royal College of Art in London and was awarded The Prince Philip Designer of the Year award in 2004 for his services to design.