Size matters in Bear House. The design process does not start from the house itself but the Be@rbricks display cabinet. It is thought of as a house of seventeen 400% Be@rbricks. It is composed of steps, ladders and voids that fit the scale of twenty-eight centimetres tall figures.
It occupies a whole wall of the dining room, linking the house's entry to the living area which is three stories high. This house for toy-bear collectors in Thailand was conceived as a scaled-up version of the bears' display cabinet (+ slideshow).
The Bear House is a renovation of an existing three-storey residence, which has been reconfigured to provide a holiday home at Cha-Am Beach resort for a family who are avid collectors of the Japanese Bearbrick figurines.
Perfect cabin for kids, love the touquoise color on the wall too.
And cabin for the parents.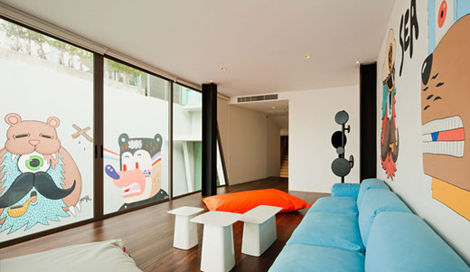 Info/pictures: Bear House, via Dezeen