Tucked away from the hustle and bustle is the charmingly avant-garde Hôtel Sezz Paris, located in the 16th arrondissement of Paris on the right bank of the Seine. Visit France and Paris.
Visually striking and unconventional, the 26-room Hôtel Sezz Paris features a casually meticulous personal assistant on hand day and night, and a breakfast room situated under a glorious glass dome.
Beds stand squarely in the centre of the suites, which are adorned in chrome and red leather, and a two-person stone jacuzzi dominates the sleek bathroom. With quiet French chic and refinement, and a sweeping view of the Eiffel tower from its hillside location, the Sezz will win even the most-worldly guest's heart.
Hidden behind a classical Art Nouveau façade dating back to 1913, Hôtel Sezz Paris is an haute-design Mecca that places extraordinary emphasis on space and privacy—the smallest room is 20 square meters, the largest 70.
With a sweeping view of the Eiffel Tower from its hillside location across the Seine, Hôtel Sezz has one Parisian 'must' taken care of.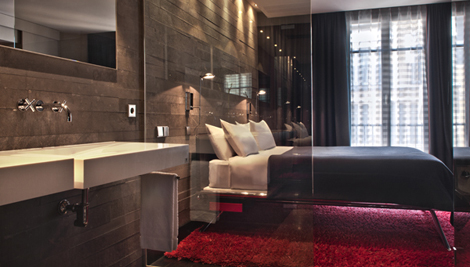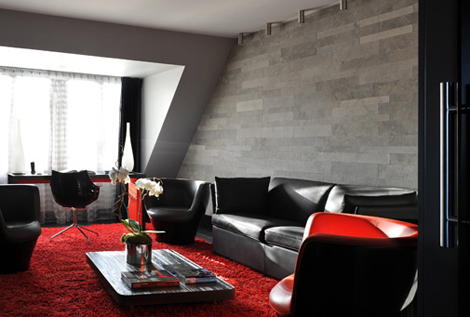 Designer Christophe Pillet's Portuguese Cascais stone walls, furnishings of simple lines, dark wood detailing and exquisite accents, and soft lighting make the Hôtel Sezz Paris a secret high-style gem. Here, functionality is compatible with a highly evolved modern aesthetic. The effect is elegant, low-key and more south of France than urban, although the palette of slate, blue-grey and red is strictly Parisian.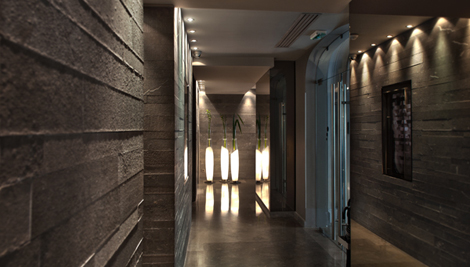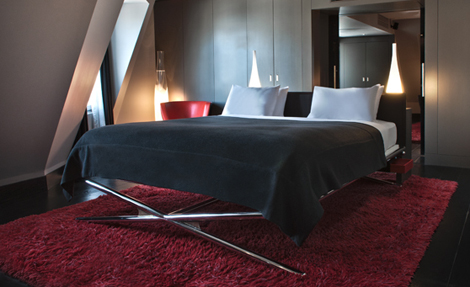 Info/pictures from Designhotels