Sekken Fatboy er populær, enten du har den på ungdomsrommet, i stuen, på balkongen eller på hytta. Kanskje den vil fungerer godt i barnehagen eller på kontoret? Deilig avslappende, lett å holde ren og i mange morsomme farger.
Sekken finner også som en flat utgave (Fatboy Island), puff (Fatboy Point) for husdyr (Fatboy DoggieLounge) og du får en hengekøye (Fatboy Headmock) til hagen i samme utførelse og kvalitet. Stolen kan kjøpes for bruk både inne og ute, den er slitesterk og tåler røff behandling. Gjøres ren med en klut dersom du er uheldig og søler på stolen/stoffet.
Saccosekken Fatboy kan kjøpes hos blant annet Room, Romsørvis og i nettbutikken Muffeladen. Hos Marimekko.no finner du oversikt over hvem som selger mønster fra Marimekko i ditt område. Saccosekken koster ca. 2.200,- pluss frakt.
Fatboy® posen er meget solid og slitesterk. Innholdet er av små plast / isoporkuler, som med enkelhet kan byttes ut etter lang tids bruk. Prosedyren er enkel og effektiv. I USA har Fatboy fått ikonstatus. I Tyskland og Danmark opplever den stor suksess og vi skjønne hvorfor! Den finske designeren Jukka Setälä designet Fatboy® i 2000, den moderne sittesekken for 21. århundre.
Fatboy® Original 140x180cm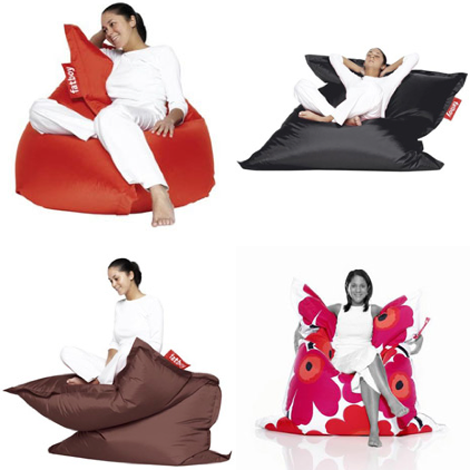 Fatboy® er praktisk dersom du får uventede overnattingsgjester, det er nemlig fullt mulig å sove i en Fatboy®. Behagelig og avslappende når du ønsker å slappe av, kanskje ved å lese, høre på musikk eller en lydbok.
Fatboy® er laget av slitesterk nylon, med en praktisk overflatebehandling som gjør den veldig lett å rengjøre. En fuktig klut, og sekken er som ny. Dette gjør at Fatboy® også egner seg godt på barnerom, hvor det kan gå for seg.
Fatboy® Island 120x30cm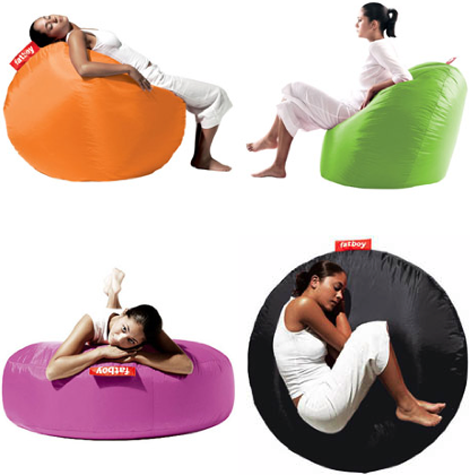 The story
Once upon most of the sometimes, there was this Dutch bum that lived under the bridge near that lantern on the corner of that narrow street that leads to that open park with dogs chasing balls and stick thrown by regular ordinary dog owners that do not sit on the grass because it is a quite moist type of grass and they don't want to soil their kakis.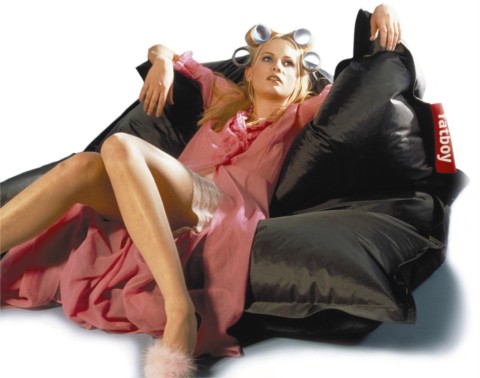 On a certain sunny morning under that very same bridge, this Dutch bum, who shall remain nameless because his mother might find out, found an old empty bottle of hard liquor right beside his old rusty bicycle that he used as a pillow.
Tough luck one might say, because a full bottle of hard liquor would be the nicest breakfast since his last supper. Neverless he considered himself lucky, since he was a positive minded man who always looked at the glass as half full, although the glass was always half full with poison most of the time. Read the whole story.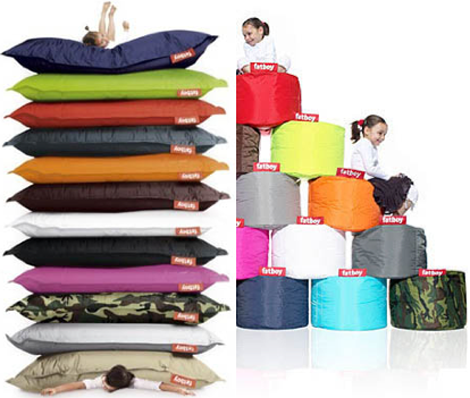 Kilde/bilder: Fatboy.de