Mystique på den greske øya Santorini innbyr til late dager og rekreasjon. Atten suiter og plassering i et, for nordmenn, helt annerledes miljø gjør et besøk på Santorini muligheten til å slippe unna hverdagen!
Mystique: Guests may experience an outdoor infinity-edge pool, the "Aura" Pool Bar, the "Charisma" Gourmet Restaurant and the "Secret" Wine Cave. Sixteen suites and villas in a landscape of more than 2000 square meters provide a sensorial experience of Santorini in surroundings of understated elegance.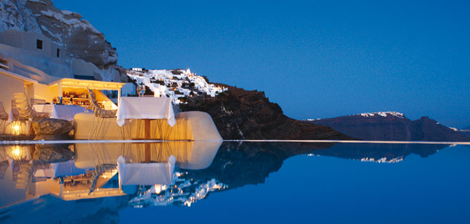 Med en slik utsikt så må bare livet føles bedre å leve. Med utsikt til et asurblått hav og få turister ser dette veldig bra ut – hotellet "henger" langs fjellet, rett ned mot sjøen.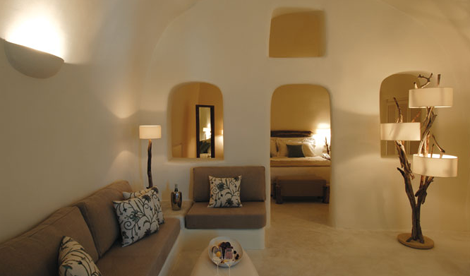 Med hotellrom som er så og si bygget inn i fjellet får du en helt egen følelse av å bo inne i fjellet.Rommene har et design som gir deg følelsev av å bo i en hule.

Stemningsbilde fra en suite. Varmt og behagelig lys. Her fra sovedelen av rommet.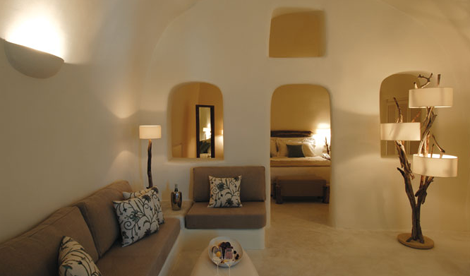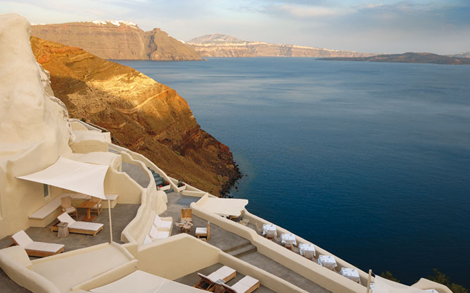 Fantastisk utsikt og store muligheter for å la stresset bli hjemme mens du ferierer!
Foto: www.mystique.gr